"But God demonstrates His own love for us in this: While we were still sinners, Christ died for us." // Romans 5:8
If you pay any attention to reality TV or any entertainment news, you've probably heard the now infamous phrase, "Colton jumped the fence." All the hype surrounded the two-part finale of The Bachelor this past week. If for some reason you're unfamiliar with the show, it's where one person is cast as the lead and goes on a quest for love with about thirty potential mates, and as the show goes on, the lead eliminates their potential suitors until there are only two left. The lead then chooses one person to spend the rest of their life with. So this season its lead was 26 year old Colton Underwood, but it ended quite different than most seasons of The Bachelor. Two weeks before the show was set to end, the girl Colton wanted to be with, Cassie Randolph, broke up with him. And this left him upset – to up it mildly. After Cassie left the show, Colton was so upset by this that he ran away from the production set and jumped an eight foot high fence to do it.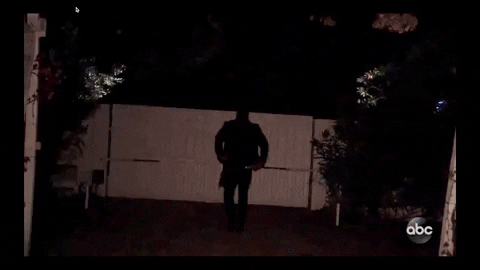 However, he didn't do this because he was mad. He did this because his love for Cassie was so deep that he couldn't imagine going on without her. After he jumped the fence and ran away, the production crew eventually found him and convinced him to come back to the show. At this time, Colton still had two potential girls he could choose to propose to. Two girls who were in love with him. But he wanted Cassie. And because he loved Cassie so much, he broke up with the two remaining girls, risking the loss of every relationship left, to try and pursue Cassie again, in hopes she'd reconsider.
At the end of it all, Colton did convince Cassie to give it another shot, and the two are now together and in love (yay for happy endings!). Now, why bring all this up and how does it relate to anything in our own life?
There's something in all of us that love love. We all love it when someone goes after the person they love with all their heart. We all want someone to "jump a fence" for us. We all want to be pursued without reservation. That's why we love the movie scenes when the guy chases down a plane leaving with the girl he loves on it. The romance novel that detail the boy who does anything to get the girl. And while most see these circumstances as unrealistic for our every day life, I don't believe so. In fact, I think God wired us this way.
I think God wired us this way because God knew He would send Jesus to woo us, to pursue us in this exact same way. Jesus left everything to pursue our hearts (Luke 15:1-7). He left the comforts of heaven, He came to this dirty and dusty earth, He became a servant and ultimately endured the most grueling death known to mankind (Philippians 2:5-8, John 3:16). Why?
Because He loves you.
Because He wants you.
Ladies! You have a man who has left it all to pursue your heart. There is a man who jumped every fence in His way to get to you. To woo you. To have you. This is the greatest romance of all time! And yet it's so often that we settle for thinking we're not deserving of that kind of love in this life because we don't get it from some guy who doesn't pursue us like that. But no matter what a guy has or has not done for you – Jesus has done this for you! And nothing can change that (Romans 8:39, John 10:28-30).
So today, remember that you have a God who loves you more than you can imagine. He's waiting for you every second of every day. Even if you've walked away like Cassie did to Colton, even if you've wanted nothing to do with Him, even if you've messed up. We've all done this stuff. But Jesus died for us anyways. And He'd do it all over again for you right now if He had to.
So, look up and see that you have been pursued with God's whole heart, without abandon. And don't settle for anyone in life that treats you less than this. Wait for the person pursues you like Jesus would. Who fights for you like Jesus does. Who loves you like Jesus.
When we wait for His best and bask in His love right now, some day we might just change the world. ❤
Oh! And guys … "jumping a fence" is now the new standard. So get practicing 😛
(Just kidding. Maybe.)
Until Next Time,
@stephanie_jacqu